M.B.B.S., M.D. (U.S.A), F.A.A.D. (U.S.A), F.A.A.C.S. (U.S.A), F.A.S.D.S. (U.S.A)
F.A.S.L.M.S. (U.S.A) F.A.S.H.R.S. (U.S.A) F.A.S.L.S. (U.S.A) M.A.C.P. (U.S.A)
Diplomate, American Board of Dermatology
Diplomate, American Board of Internal Medicine
Fellow, American Academy of Cosmetic Surgery
Fellow, American Society for Dermatologic Surgery
Fellow, American Society for Liposuction Surgery
Fellow, American Society for Hair Restoration Surgery
Fellow, International Society for Hair Restoration Surgery
Fellow, American Society for Laser Medicine and Surgery
Assistant Clinical Professor of Dermatology
The State University of New York at Stony Brook, U.S.A
Professor of Dermatology and Dermatologic Surgery
Allama Iqbal Medical College and Jinnah Hospital, Lahore.
It's your face, it's your body, it's your health and well-being.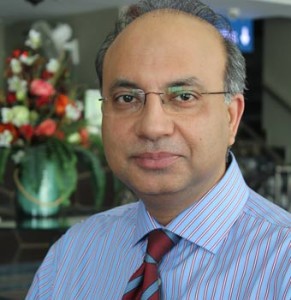 Prof. Dr. Azim Jahangir Khan
At Cosmetique, you can literally trust your liposuction to the Professors who teach other doctors the science and latest technique of tumescent liposuction and how to perform cosmetic surgery.
Prof. Dr. Azim Jahangir Khan has pioneered and perfected liposuction surgery in Pakistan.  Whether you are in need of a rejuvenating facial mini lift, liposuction or relief from unwanted wrinkles, our doctors are ready to serve your needs.
Dr. Azim Khan is the only American trained liposuction surgeon in Pakistan, rather in all of South Asia with the unusual trio of accredited training in Internal Medicine, Dermatology and Cosmetic Surgery from the U.S., and is Board Certified by both American Board of Internal Medicine as well as American Board of Dermatology. He is thoroughly trained in a cosmetic surgery fellowship-training program accredited by the American Academy of Cosmetic Surgery in the Unites States. His mentors and teachers include some of the best doctors in the world, including Dr. Branden Riley, Dr. Richard A. Clark and well renowned cosmetic surgeons Dr. Emil Bisaccia and Dr. Dwight Scarborough. All of these doctors are the authors of the Textbooks and Dr. Azim Khan himself is editing textbook of Wound Care with Dr. Richard Clark. Dr. Khan has published extensively in the basic science as well as in the clinical science peer-reviewed journals of international repute and has authored chapters in textbooks taught in universities and medical colleges all over the world. Prior to establishing Cosmetique, Dr. Azim Khan spent over 15 years in the United States in the training, practice and teaching the art and science of skin, hair and nail diseases as well as laser and cosmetic surgery. His clinical expertise includes general dermatology, hair transplant, liposuction, face lift with smallest possible surgery, otoplasty, blepharoplasty and lasers for hair removal, birthmark removal and rejuvenation to name a few. He is, Alhamdulillah, one of the most qualified doctors in these fields, and is well known internationally for performing state-of-art tumescent liposuction. He is licensed to practice in the states of New York, New Jersey, Ohio and Illinois. Dr. Khan has been featured five years in a row in Marquis' Who's Who in America 2005 to 2010. Marquis Who's Who contains detailed biographical information on the most outstanding and accomplished individuals in the United States.
He also completed a fellowship in wound healing at Northwestern University School of Medicine in Chicago. Northwestern University is considered as one of the best universities in the United States. Dr. Khan completed residency training in Internal Medicine from Cook County Hospital, Chicago, IL. During the stay there he was elected as the President of House Staff Association (HSA) that represents the largest physician union in the United States. He has also served as the Vice President of National Union of Hospital and Health Care Employees (NUHHCE) of United States. He is the first foreign doctor ever elected to these prestigious organizations in America. He, then completed a residency in Dermatology at the State University of New York at Stony Brook, NY., and continued to serve as Assistant Professor of Clinical Dermatology at Stony Brook. Later, he completed a fellowship in Dermatologic Cosmetic Surgery approved by the American Academy of Cosmetic Surgery. He is a Fellow of the American Academy for Liposuction Surgery, American Society for Dermatologic Surgery and American Society for Hair Restoration Surgery to name a few.
He is one of the very few dermatologic surgeons in the world with competence in a very sophisticated technique for the treatment of vitiligo called as "Melanocyte Transplant Surgery". His basic science work has focused on the fibroblast migration in the wound healing and the lab-grown artificial skin.
Dr. Khan primarily sees patients at our well known and respected practice, Cosmetique in Lahore. He is the Professor of Dermatology and Dermatologic Surgery at Allama Iqbal Medical College and Jinnah Hospital, Lahore, and an Assistant Clinical Professor at the State University of New York at Stony Brook, U.S.A. He teaches medical students and young doctors as well as maintains his active involvement in clinical and basic science research. He is also the president of Allama Iqbal Medical College Alumni Association.
Dr. Azim Khan regularly shares his expertise in cosmetic surgery and hair loss treatments with his peers by lecturing at national and international conferences and seminars. Considered as an authority in his field, Dr. Khan is frequently approached by the news media as an expert and has been referenced in national and international newspapers, magazines and television.